"Logitech M720 Mouse Triathlon
€59,31 net. €69,99 incl.18% VAT
Logitech Wireless Mouse M720 black retail
Item no .: 211008
Manufacturer number: 910-004791
EAN code: 5099206065086
Manufacturer: Logitech
Commodity group: Mice (MSM)
External dimensions (W x D x H): 192mm x 125mm x 63mm [own measurement]
Weight: 0.177kg [own measurement including packaging & attachments]
Logitech Wireless Mouse M720 black retail
Multi-Device Wireless Mouse with Hyper-fast scrolling
POWER MEETS VERSATILITY
Meet the high-precision mouse that's built for ultimate comfort, endurance, and versatility. With extra controls, a dual-mode scrolling, and adjustable dpi tracking, M720 gives you the power to tackle any task. Two ways to connect and multi-device capabilities keep you in your flow, even when working between two or three computers.The sculpted shape and up to 2 years1Battery life may vary based on use and computing conditions. of battery life ensures that you can keep doing the precise, high performance work you do-all day long.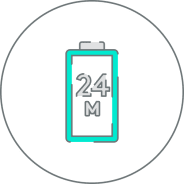 FULL-SIZED COMFORT
The full-sized, contoured shape follows the natural curve of your hand, providing perfect palm support, so you can stay productive longer. This right-handed design also features soft rubber coating so you can work comfortably for long hours — at home or at work.
Scroll better, track better, and get more done. The dual-mode scrolling lets you switch between speed and precision, so you can fly through long webpages, or go line-by-line with a switch of a button. You can also scroll horizontally with the tilt-wheel—perfect for large spreadsheets, big images, and web pages. High-precision tracking gives you superior cursor control on almost any surface with adjustable dpi.
FLEXIBLE AND COMPATIBLE
M720 is compatible with computers, laptops and tablets -Windows®, macOS®, Chrome OS™, Linux®2Customization of the buttons via Logitech Options is not possible on Linux., and iPadOS®, it's ready to integrate with your work setup, regardless of device or operating system. Connect your way, via either Bluetooth® wireless technology or the wireless Logitech Unifying receiver, which lets you connect up to 6 compatible Logitech peripherals with only one USB receiver.
PRODUCTIVITY YOUR WAY
Two side buttons plus a hidden thumb button provide extra control right where you need it, making it simpler and faster to get things done. Programmed to go backward and forward on the web, you can customize them to fit your needs on macOS and Windows by downloading Logitech Options™ Software.
MULTI-DEVICE FLOW
Use M720 to work seamlessly between computers, laptops, tablets. Pair your mouse to up to three different devices, and switch between them with the Easy-Switch™ button. Use Flow™ to fly through your tasks: seamlessly move text, images, and files across computers – and operating systems – with a simple copy and paste.
QUALITY YOU CAN COUNT ON
The mouse is built using the same high quality standards that have made Logitech the global leader for mice and keyboards3 Based on independent sales data (in units) aggregated for Logitech mice and keyboards from major global markets including Canada, China, France, Germany, Indonesia, Republic of Korea, Russian Federation, Sweden, Taiwan, Turkey, UK, US (July '19 – July '20 period). Retail channel only.. Durable and reliable, M720 also works up to 24 months4Battery life may vary based on use and computing conditions. without changing batteries thanks to the auto-sleep power-saving mode and the on/off switch button.
GREAT TOOLS. BETTER WORK.
Solution should be simple. Get everything you need to produce, connect, and own your space.This full desk set-up -mouse, keyboard, headset and webcam- will deliver increased comfort and productivity thanks to the seamless and intuitive features that make your everyday tasks easier and faster, So you get more done, without having to think twice about it.
Mouse

Height: 4.53 in (115 mm)
Width: 2.91 in (74 mm)
Depth: 1.77 in (45 mm)
Weight (with batteries): 4.76 oz (135 g)

Logitech Unifying receiver

Height: 0.57 in (14.4 mm)
Width: 0.74 in (18.7 mm)
Depth: 0.24 in (6.1 mm)
Weight: 0.06 oz (1.8 g)

Logitech Unifying receiver

Required : Available USB port
Windows 10 or later
macOS 10.5 or later
Chrome OS
Linux® Kernel 2.6+

Bluetooth

Required: Bluetooth low energy technology
Windows 10 or later
macOS 10.5 or later
Chrome OS
Linux® Kernel 2.6+
Android™ 5.0 or later
iPadOS 13.4 or later

Sensor technology

High Precision Optical Tracking
DPI (Min/Max): 1000±

Scrolling

Hyper-Fast Scrolling Wheel
Scroll Wheel: Yes, Rubber
Tilt Wheel: Yes, with middle click

Optional software

Logitech Options
Logitech Flow™
€

42,36 net.

€

49,98 incl.18% VAT